10 Best Hotels in Mombasa to Spend Christmas
Top 10 Best Hotels in Mombasa to spend Christmas this year
Although the "most pleasant time of the year" is quickly approaching, the coronavirus pandemic may make this year's Christmas celebrations seem somewhat different, you may still get into the festive spirit at a variety of locations throughout Kenya and the rest of the world.
The best Christmas vacations contain festive décor and special celebrations that capture the spirit of the season, all of which are best enjoyed against the backdrop of a beautiful location. In addition, with so many fantastic vacation destinations available across the country, you're never more than a few hours away from a perfect December trip.
Are you looking for a place to spend your Christmas break in true luxury in 2021? With everything from tropical beaches to magnificent resorts, these are the top 10 best places to spend Christmas this year in Mombasa, Kenya.
While some destinations and hotels have publicized their holiday plans, keep in mind that these plans are liable to change owing to the current coronavirus epidemic, so double-check before making travel arrangements.
1. PrideInn Paradise Beach Resort & Spa
The PrideInn Express Nyali is Located along Links Road Mombasa, directly behind the City Mall Nyali shopping center.
In addition to being within walking distance of the Nyali business district, the hotel is also close to the Mombasa CBD, beaches, international organizations, and other tourist attractions.
A fundamental level of comfort is provided at an affordable price by the PrideInn Express brand.
2. Nyali Sun Africa Beach Hotel & Spa
The Nyali Sun Africa Beach Hotel & Spa is located in Mombasa, Kenya, near a golf course and on a private beach that guests can use at their leisure. Nyali Beach and Haller Park, as well as Mamba Village and Wild Waters, are examples of the area's natural grandeur, and there are other additional things to enjoy as well.
Equip yourself with your golf clubs and hit the greens at a local golf facility, or seek adventure on horseback or along with hiking and bike trails.
3. Bliss Resort
Resorts at Bliss Resorts in Nyali, an upscale coastal city north of Mombasa Island that is known for its many high-end hotels, modern standards, and virgin beaches, is a fashionably imaginative and magnificent hotel.
All rooms at Bliss Resort in Nyali come with complimentary Wi-Fi and a kitchenette. In addition to the year-round outdoor pool and fitness center, the resort features a bar where guests may relax and have a drink. On-site parking is free of charge.
The property's front desk is open round-the-clock.
Bliss Resort is 1.5 miles from Wild Waters Family Entertainment Park and the nearest airport to the hotel is Moi International Airport, located 9 miles away.
4. Voyager Beach Resort
Located just seven kilometers north of Mombasa's central business district, Voyager Beach Resort is an ideal location for tourists to explore the city's history, culture, and recreation.
Some of Africa's best family entertainment and animation programs are hosted by the vibrant themed resort, including unique themed journeys across the seven seas, culinary extravaganzas, with very supervised children's activities, and days out with Africa's best-known and most experienced safari club for kids.
5. Hotel EnglishPoint & Spa
Residential units are also part of the complex that includes this premium hotel on the Nyali Bridge canal. The Golden Key Casino, Nyali Shopping Centre, and Fort Jesus, a 16th-century fort that houses a museum, are all within a 14-minute walk.
With a third-floor boutique restaurant, an ultramodern Spa, and a full-service marina (now under development), English Point is the ideal setting for a relaxing vacation. 26 en-suite guestrooms and 26 Luxury Suites are available for guests to choose from, not to mention the two penthouses and the Executive Suites.
6. Sarova Whitesands Beach Resort & Spa
East Africa's best resort, Sarova Whitesands Beach Resort & Spa, is situated on one of Kenya's most beautiful and longest beachfront. Three themed wonderful restaurants, two fantastic bars, and the private Cocos Beach Bar overlooking the spectacular Mombasa Ocean are available for guests to enjoy.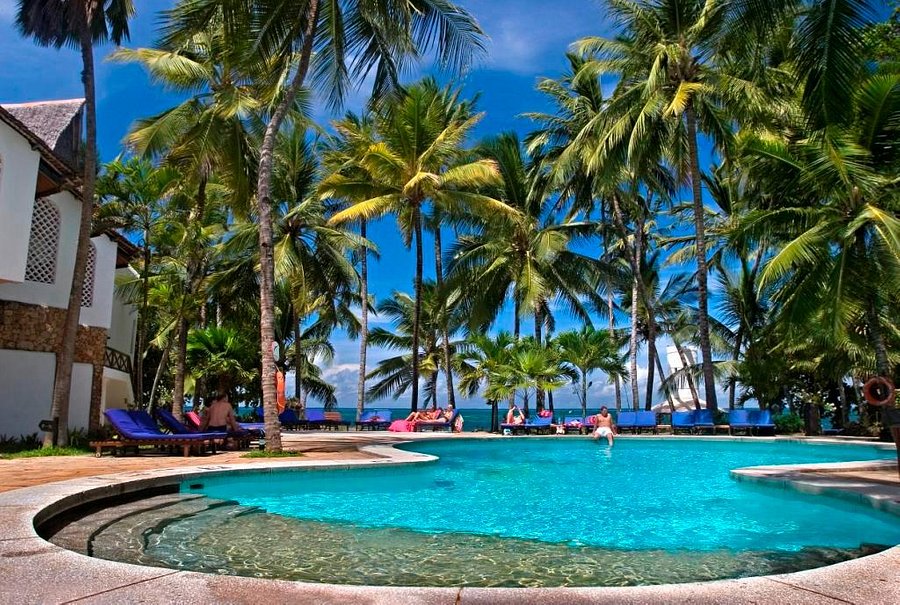 Severin Sea Lodge sits in the middle of a huge palm grove, making it a peaceful refuge. A 12-kilometer drive from Mombasa and a 20-kilometer trip to the airport separate the hotel from the Indian Ocean and Bamburi Beach.
There are two swimming pools, round bungalows, and two major buildings situated in a gorgeous palm forest at the hotel. Wooden furnishings in a rustic natural style are used in the rooms and suites.
Have you ever stayed at any of these locations? Let us know what you think by leaving a comment below.